Note: It is possible that when uploading your recon information from your providers, some providers may report 2 or more payments with the same identifying number, description, and cost. If this is the case and you do not want the system to combine these lines as duplicates, simply toggle 'Allow Duplicates' to YES before uploading:

Note that at the top of your Reconciliation Reports page, you can see an overview of the relevant totals, which will change to reflect the current search parameters:
If you would like a Reconciliation Report to be unpublished/removed from Revenue when the work order is charged back, you can set this up in the Admin portal of your instance by following these instructions:
Head to the backend of your instance (add /a to the end of your instance address. For example, demo.fastgem.net/a) and click Config.
Then, click the Payroll tab.
Toggle 'Unpublish Recon and Biz Revenue on Chargeback' to YES. (This will also unpublish the existing reconciliation report that reflects the amount earned from the Provider for this sale):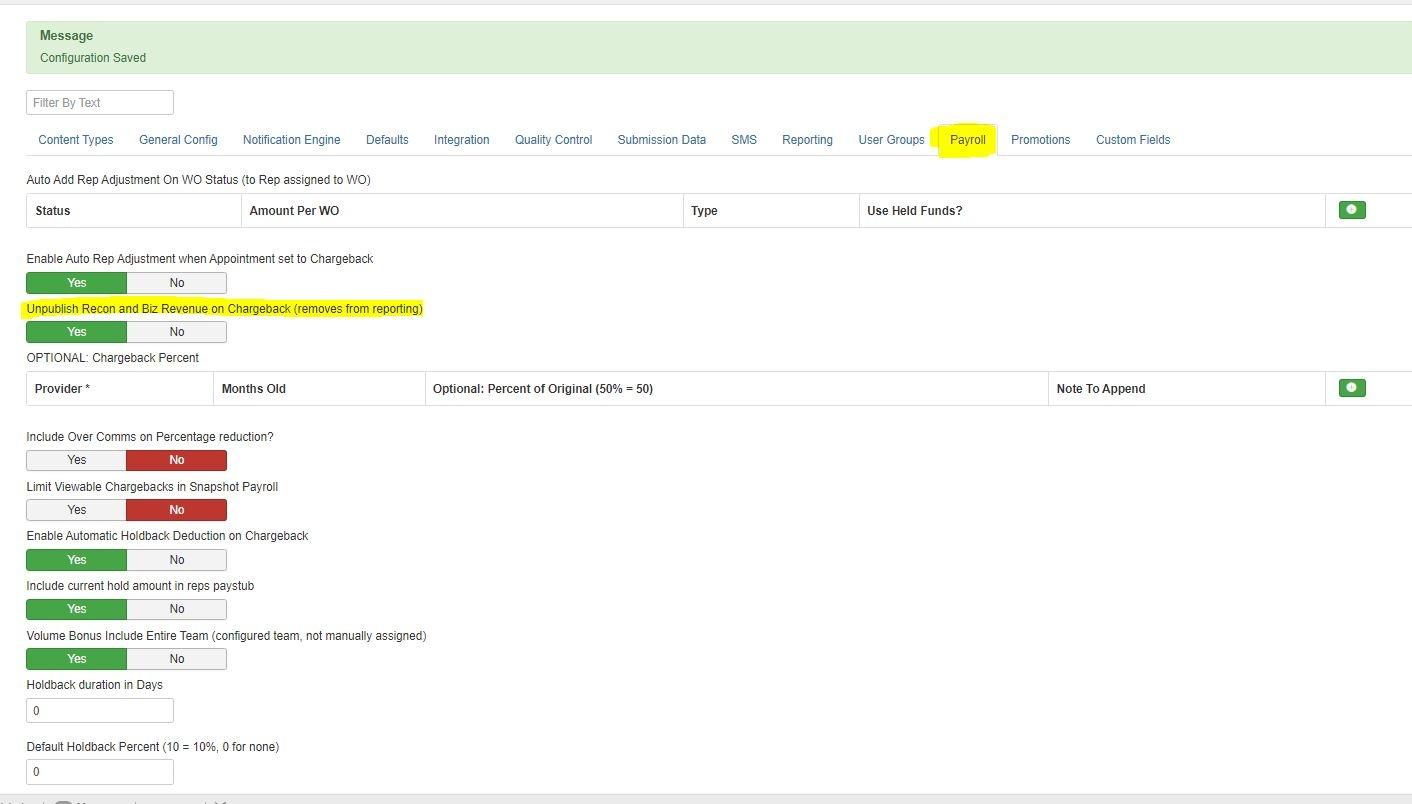 NOTE: Reconciliation can also affect Total Account Revenue on a Property/Account record. For more information on Properties/Accounts in FastGem, see THIS article.
PROBLEM: Expected amount is blank:
If the Expected amount is blank in your recon report, that usually means that you have not Finalized the order through Snapshot Payroll yet:
To make Expected Amount appear, first verify that you have Business Commissions set up for the aplicable package (for more information on package set-up, see THIS article):
Next, make sure the order you are trying to clear through recon has been finalized through payroll. If the order has not yet been finalized through payroll, no Expected amount will appear in your recon report.
If your order has not been finalized through payroll yet, you will see a 'Payroll Projection' section when you enter the work order record, rather than a 'Payroll' button to review finalized payroll:
You can finalize payroll for an order from within the work order record itself:
Or you can finalize it through Snapshot Payroll. You can learn more about Snapshot payroll HERE.
Once the order has been finalized through Payroll, you will see the 'Expected' amount appear on your recon report. If the Expected amount matches the Actual amount, your reconciliation record will Clear itself:
Please contact us at This email address is being protected from spambots. You need JavaScript enabled to view it. with any questions. Thank you!