**You must have the User Group Permission 'Can View Company Comps' & 'Payroll Admin' to access this feature.
Reconciliation Reporting tells you what you should expect the provider to pay you for installs/services rendered, vs. what you've actually been paid.
Reconciliation Reports can be accessed, viewed, and edited by using the following pathway: Payroll>Manage Payroll>Reconciliation Report (Pathway may differ slightly depending on instance customization):
You will be taken to a searchable list of reconciliation reports for your instance. Note that at the top of your Reconciliation Reports page, you can see an overview of the relevant totals, which will change to reflect the current search parameters:
You can also access a reconciliation report for a particular work order by entering that work order record and clicking on the Payroll slider. See below for more details on this.
A reconciliation record is created once a work order is finalized in 'Snapshot Payroll,' and/or when a reconciliation report is uploaded from a third party source into FastGem using FastGem's Mass Upload Tool.
FastGem creates reconciliation reports for you based upon the Business Commission you enter in the 'Biz Comm' fields within a package's configurations. For more information on how to edit/add packages, please see help article 'Adding a New Package to FastGem and Order Form.' FastGem will also take into account any Promotions that are set to Affect Biz Pay on the cleared work order. For more information on promotions, please see help article 'Adding/Editing Promotion Options, and Adding Promotions to Work Orders.'
If you would like a Reconciliation Report to be unpublished/removed from Revenue when the work order is charged back, you can set this up in the Admin portal of your instance by following these instructions:
Head to the backend of your instance (add /a to the end of your instance address. For example, demo.fastgem.net/a) and click Config.
Then, click the Payroll tab.
Toggle 'Unpublish Recon and Biz Revenue on Chargeback' to YES. (This will also unpublish the existing reconciliation report that reflects the amount earned from the Provider for this sale):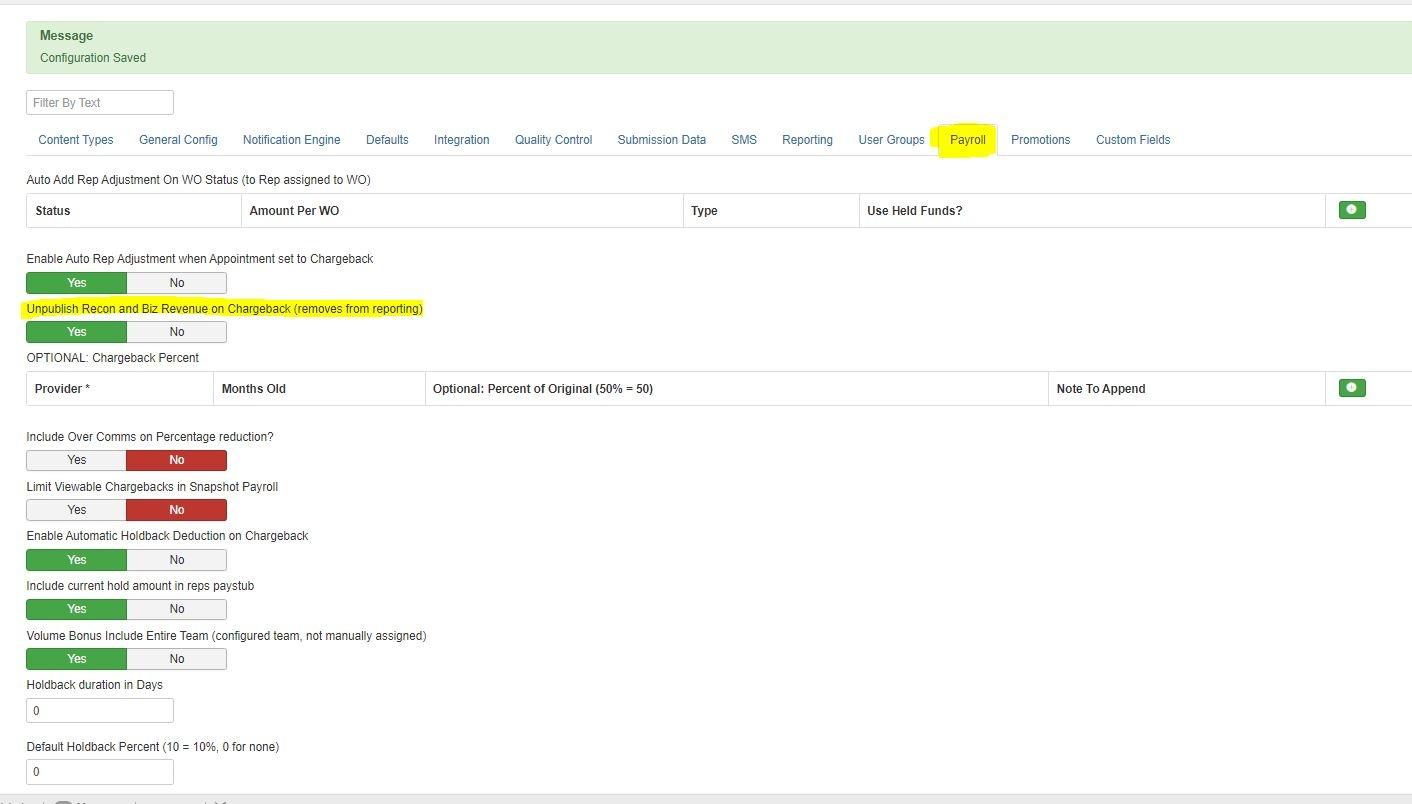 NOTE: Reconciliation can also affect Total Account Revenue on a Property/Account record. For more information on Properties/Accounts in FastGem, see THIS article.
Utilizing Mass Upload Tool for Reconciliation Data
For more information on mass uploading/updating recon reports, see the 'Reconciliation Data Tab' section in the help article 'Mass Upload/Update/Texting Tool: Reconciliation Data tab.'
The Mass Upload Recon Data tool can be found by using the pathway: Resources>Mass Upload/Update Tool>Reconciliation Data (tab):
Click into the field labeled "Notification E-mail" and type in the e-mail where you'd like to receive the "Complete" notification once the upload has finished.
In the Dropdown box labeled, "Load Input Format," choose the format consistent with the resource you are exporting data from. If you do not see the format for the source of your data, please reach out to FastGem support for guidance. (For this article, we are using AT&T's Callidus OnDemand format.)
It is possible that some providers may report 2 or more payments with the same identifying number, description, and cost. If this is the case and you do not want the system to combine these lines as duplicates, simply toggle 'Allow Duplicates' to YES before uploading:

*It is also possible to use this 'Upload Reconciliation Data' tool to update reconciliation data already in the system. Just upload the list of data you wish to update here, with the relevant information changed. FastGem will not change identifiers or create duplicate recon reports. Instead, the software will search for reconciliation reports with those same identifiers and use the new information uploaded here to update existing records.
*Values of Statuses, etc. must match the values configured in FastGem in order to upload/update correctly.
Once you are finished inputting the data into the formatted sheet in FastGem, click the "Process Data" button. You will receive an e-mail once the data has been successfully uploaded into your instance.
If reconciliation data uploaded here matches the expected amounts in existing recon reports for the same work orders (those recon reports generated when an order is finalized in Snapshot Payroll), the recon report will automatically be put into 'Cleared' status. If reconciliation data is uploaded here but the applicable work orders have not yet been finalized in Snapshot payroll, or if the values do not match, these recon reports will NOT be put into 'Cleared' status, but they will still upload. Then, once the values match later, the record will be put into a Cleared Status automatically.
Accessing Reconciliation Data through Payroll
Once a work order record that has business commissions tied to it has been Snapshotted and Finalized in payroll, AND/OR once recon data has been uploaded for a work order, any time you access the record of that work order, there will be an expandable 'Payroll' menu in it. When you expand that menu, one of the options you will see is "Recon" with an eye icon button beneath it.
Note: you can also access recon reports by entering a customer record and opening the applicable work order within that record:
Clicking the icon will bring you directly into the Reconciliation Report for that particular work order. You can edit the report from here, as well.
Note that if you are editing a report to reflect new amounts, rather than editing the overview section at the top of the report, you must edit or create a new value in the payment details list:
* Keep in mind: Initial data only populates in 'Reconciliation Report' when it is either uploaded from an outside source or when the work order is finalized in 'Snapshot Payroll.'
PROBLEM: Expected amount is blank:
If the Expected amount is blank in your recon report, that usually means that you have not Finalized the order through Snapshot Payroll yet:
To make Expected Amount appear, first verify that you have Business Commissions set up for the aplicable package (for more information on package set-up, see THIS article):
Next, make sure the order you are trying to clear through recon has been finalized through payroll. If the order has not yet been finalized through payroll, no Expected amount will appear in your recon report.
If your order has not been finalized through payroll yet, you will see a 'Payroll Projection' section when you enter the work order record, rather than a 'Payroll' button to review finalized payroll:
You can finalize payroll for an order from within the work order record itself:
Or you can finalize it through Snapshot Payroll. You can learn more about Snapshot payroll HERE.
Once the order has been finalized through Payroll, you will see the 'Expected' amount appear on your recon report. If the Expected amount matches the Actual amount, your reconciliation record will Clear itself:
Please contact us at This email address is being protected from spambots. You need JavaScript enabled to view it. with any questions.