YOU MUST BE AN INTERNAL USER WITH ADMIN PERMISSIONS ENABLED TO ACCESS THIS FEATURE!
Note: auto-texts and replies are logged in Action Logs.
Note: texts will not go out to blocked reps/techs, or to unpublished/deleted customers.
NOTE: FOR INFORMATION ON AUTOMATED QC/FOLLOW UP CUSTOMER TEXTING, PLEASE SEE HELP ARTICLE 'SETTING UP AUTOMATED QUALITY CONTROL/FOLLOW UPS.' FOR INFORMATION ON AUTO-TEXTS TO TECHNICIANS REGARDLESS OF WORK ORDER STATUS, PLEASE SEE HELP ARTICLE 'SETTING UP AUTO-TEXT TO TECH WHEN THEY ARE ASSINGED AN INSTALL'.
Note: The following article shows you how to set up auto texting defined by work order status. To set up auto texting defined by customer status, follow steps 1-3 below, but instead of clicking on the button to edit "Work Order Status," choose the button to edit "Person Status" (in the SUBMISSIONS section). Then continue with steps 5-7.
Login to Back End (ADMIN portal) FastGem. You can access this ADMIN portal by adding /a to the end of your instance address. For example, the ADMIN portal address for our demo instance is demo.fastgem.net/a
Click on 'Config.'



Note: If you have special 'Configuration User' permissions, you will be able to access 'Config' from the front end as well:

Once in Config, click on 'Content Types.'

Click to Open the Work Orders slider, then click on the 'Click Here to Edit' icon under ''Work Order Status" (This may be called "Appointment Status" in older instances)

Scroll to the status you'd like for the customer/lead to receive a text notification for. Click into the 'Auto Text Customer' field. Type in the text you would like the customer to receive when this work order status is set. Click 'Done.'


Note: In the case of auto texts based on WORK ORDER status, there is now an additional filter you can set, to define which provider(s) the work order must have attached to it in order for the auto-text to go out (use the shift key to select multiple providers):

Click 'Save.'

NOTE: IN BOTH 'WORK ORDER' AND 'SUBMISSIONS' (CUSTOMER) SECTIONS, YOU WILL SEE 'ENABLE AUTO-TEXT' YES/NO TOGGLES FOR THE CUSTOMER, REP, AND/OR TECH. THESE MUST BE SET TO 'YES' IN ORDER FOR THE TEXTS YOU ENTER IN THE TEXT BOXES ABOVE TO TAKE EFFECT. IF YOU WISH TO TURN OFF AUTO-TEXTING TO REPS, TECHS, OR CUSTOMERS FOR ALL WORK ORDER AND/OR SUBMISSION STATUSES, TOGGLE THESE OPTIONS TO 'NO' ACCORDINGLY.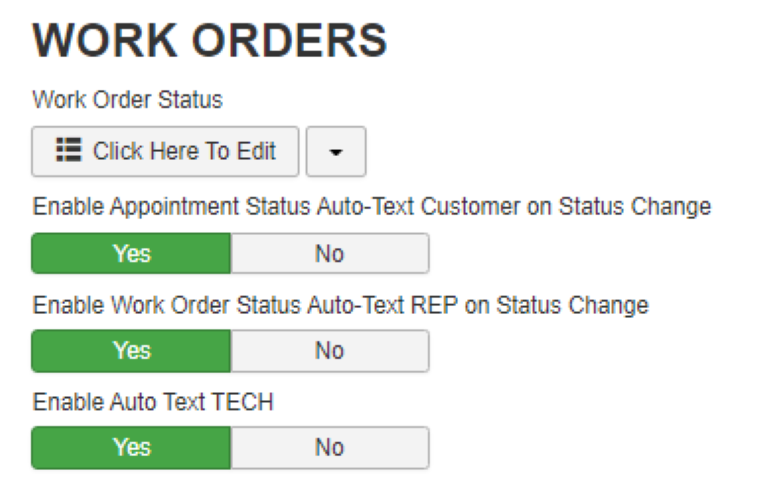 NOTE: MANY INSTANCES WISH TO DEFINE A WORD OR PHRASE WHICH APPEARS AT THE BEGINING OF EVERY MESSAGE SENT FROM WITHIN FASTGEM (E.G. 'AT&T FREE MSG' ETC). TO CONFIGURE THIS MESSAGE, NAVIGATE TO THE 'TWILIO' TAB WITHIN 'CONFIG' AND ENTER THE DESIRED WORD OR PHRASE IN THE 'FIRST PART OF EVERY TEXT MESSAGE' BOX: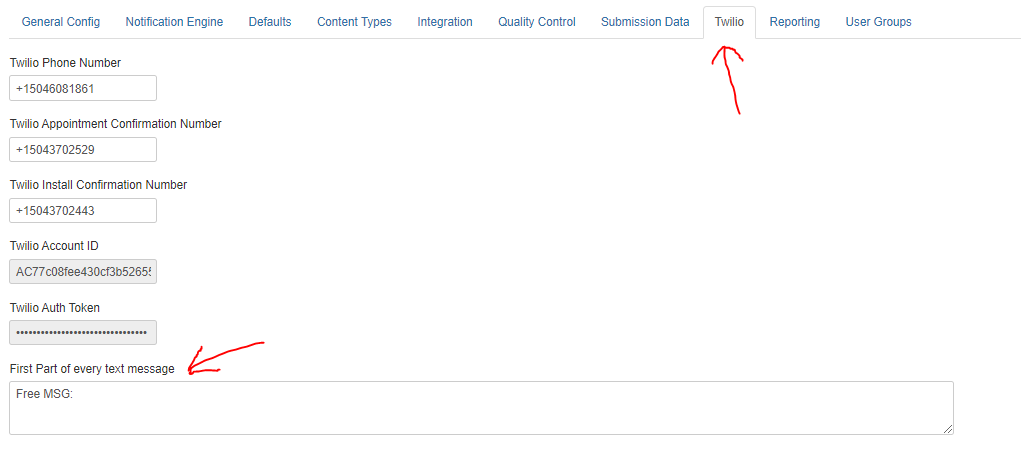 When a customer responds to a text message sent from FastGem, it will appear in the action log and will also appear in the QC log (SMS tab):
For additional questions regarding automated customer texting, contact a supervisor or FastGem support at (504) 383-0602 or by email at This email address is being protected from spambots. You need JavaScript enabled to view it.
Thank you for using FastGem!