YOU MUST BE AN INTERNAL USER WITH ADMIN PERMISSIONS ENABLED TO ACCESS THIS FEATURE!
Note: If you are a user with 'Configuration User' permissions in your instance, you will be able to access the Configuration and Content Types section from front-end by going to SITE MGMT > Config: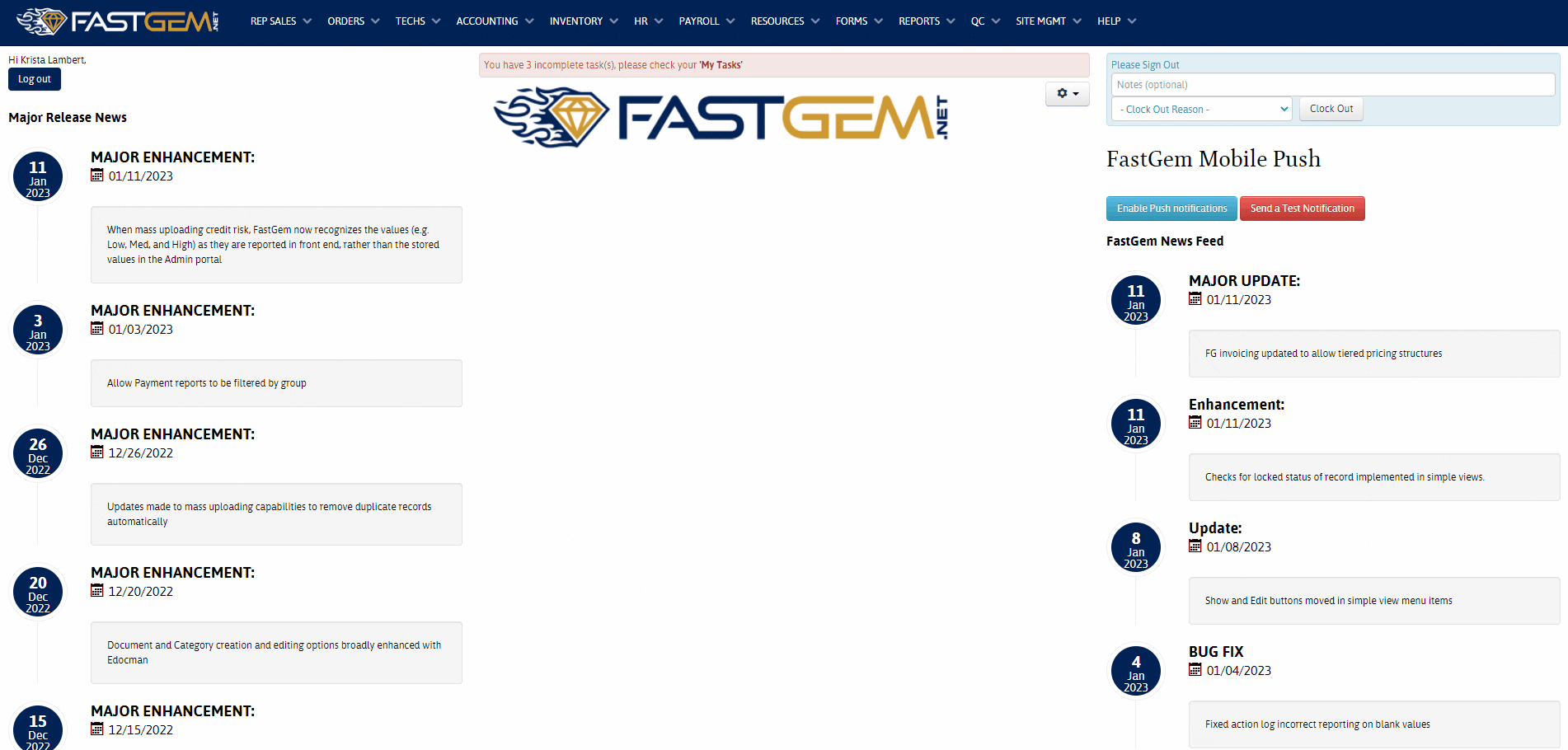 If you are not a user with Configuration User permissions, follow steps 1 and 2 to access Config > Content types:
Login to ADMIN FastGem (Back end). Click on 'Config' option.




The 'Content Types' tab is the first tab on the upper horizontal menu on the following page.




Click to expand the section corresponding to the Status you wish to edit. For example, to edit lead/customer statuses, click to expand the Submissions section. To edit Work Order statuses, click to expand the Work Orders section. Then click on the 'Click to Edit' icon corresponding to whichever status type you wish to edit/rearrange.



On this page, you can edit the color associated with the status in the 'CSS' column. You can make certain statuses un-editable to certain users with the 'HIDE from These Groups' option (for more information on HIDDEN statuses, click here). You can set up auto-texting to customers/leads, reps, and/or techs (For more information on auto-text configuration, please see help category 'Messaging/Communication in Fastgem'). You can also reposition the statuses in the order you want them to appear in front end by clicking the 3 stacked dots to the left of each set of fields.


When you are done repositioning/editing, scroll to the bottom of the box of fields, and click the 'Done' button. Then, MAKE SURE YOU CLICK THE 'SAVE' BUTTON to finish up.



SHOW-INSTEAD STATUSES:
If you would like for certain statuses to appear as a different name and/or color to only certain employees, you will need to configure a 'Show-Instead' status for that employee permission group.
Access the Status list for either Work Orders or Submissions, as above. In the 'HIDE from these groups' column for the applicable status, select the user permission group(s) that you wish to see the Show-Instead status rather than the actual status. Then, in the 'Show instead (if hidden)' and 'Show instead CSS' columns for that status, you can set an alternate status name and color, which will appear instead of the actual status name and color in front end, for whatever user permission groups are designated in the 'HIDE from these groups' column. It will appear as the actual status name and color in front end for everyone else.

For more information on status configurations, please contact FastGem Support at (504) 383-0602 or by email at This email address is being protected from spambots. You need JavaScript enabled to view it.
Thank you for using FastGem!